Post-Hurricane Supply Chain Adaptability Study
National Academies of Sciences, Engineering, and Medicine
In December 2017, MIT hosted a roundtable titled "Supply Chain Resilience: Restoring Business Operations After a Hurricane." Following that roundtable, FEMA sponsored a Federal Advisory Committee Act consensus study titled "Post-hurricane Supply Chain Adaptability Study." The study, led by the National Academy of Sciences, Engineering, and Medicine looks at issues related to the resilience of supply chains during disasters to better understand how supply and demand networks react to severe disruptions, including the role of logistics management in preparing for and responding to extreme events.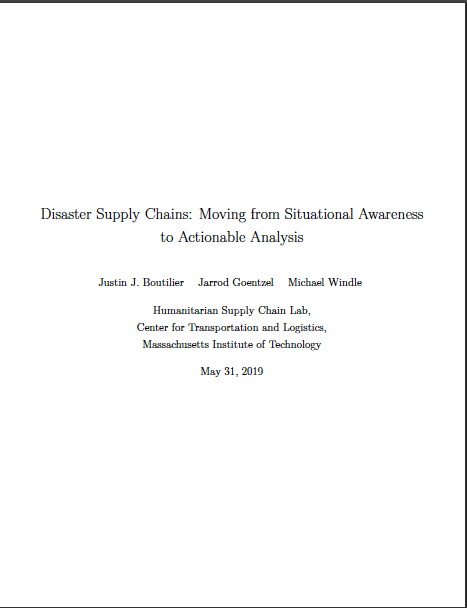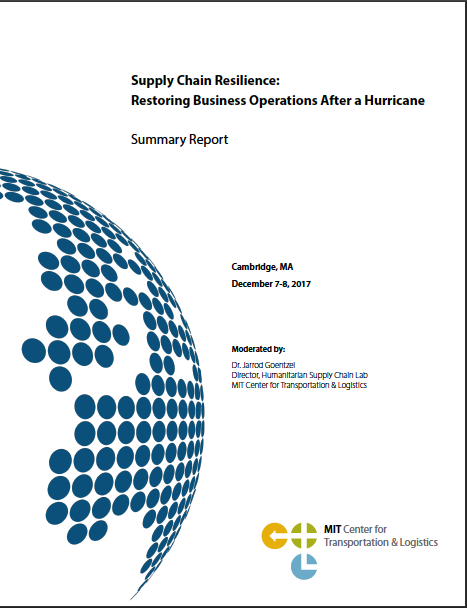 As part of that study, the National Academies asked MIT to analyze private sector supply chain capabilities for critical commodities focusing on the conveyance on food, fuel, water, pharmaceutical supplies, and medical equipment to affected communities, and how data gathering, analysis, communication, and prioritization can be improved.
MIT conceptualized analytical tools meant to be employed by FEMA to improve post-hurricane supply chain resiliency and adaptability in preparation for future hurricane seasons. MIT conceptualized three types of tools that enable real-time monitoring and early identification of supply chain disruptions after natural disasters or other events with negative supply chain consequences:
Descriptive: used to describe current supply chain health and provide situational awareness.
Predictive: used to explain and forecast future supply chain health.
Prescriptive: used to identify sentinel indicators and prescribe solutions to restore supply chain health. This included the development of centrality metrics that can be used to identify the most critical components of the supply chain.
Accomplishing this research project is leveraging CTL's data aggregation, analytical tool development, data visualization, and network science expertise areas.
An interactive version of the NASEM report is available here. The full NASEM report, available here, explores future strategies to improve supply chain management in disaster situations and makes recommendations to strengthen the roles of continuity planning, partnerships between civic leaders with small businesses and infrastructure investment to ensure that essential supply chains will remain operational in the next major disaster.
Supply Chain Resilience
Restoring Business Operations After a Hurricane
Disaster Supply Chains
Moving from Situational Awareness to Actionable Analysis
Actionable Analysis
Simulating and Visualizing Fuel Distribution During Disasters
Contact Us
If you are interested in learning more, please reach out to our team at humanitarian@mit.edu